Anne Bartlett
---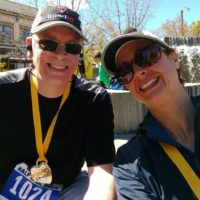 Anne Bartlett
Pendleton Free Methodist Church
Pendleton, Oregon
Quizzed 1986-1989
Inducted 2019
Bio
Anne Bartlett lives in Moses Lake, Washington, and is the current West Coast Regional Director for FMBQ, along with her husband, Jon. She has two sons, Tim and Joe, who are attending Seattle Pacific University.
Questions & Answers
What were the highlights of your quizzing years?
Some highlights of my quizzing years include attending my first Nationals as a Senior Teen Rookie, traveling for the monthly quizzes, making friends at all the quizzes, and making fun of some of the intimidation tactics some teams used.
My first Nationals sold me on Bible Quizzing. After that I put in a lot more effort and was determined to go each year that I could and compete well.
I enjoyed traveling to the monthly quizzes since this always meant we needed to spend the night since we lived so far away from the quizzes our church didn't host. Often we would spend the night with quizzers from the host churches, playing games, eating snacks and just getting to know one another better.
I remember making friends at the quizzes which spanned the miles. I especially remember meeting Marvin Gray at a National competition and he was a speaker at one of our sessions. He told stories about living in the Dominican Republic. I can still remember him telling about cutting the grass with a machete instead of a mower. I, also, monthly would compete against Laura Christensen. She was the competition to beat in those days. My teammates and I would always say that she would grow up to be a lawyer since she loved to "challenge" and was good at it. Later we became co-coaches and even roommates for a short time while in college.
I also love that I now live in Moses Lake and coach the Moses Lake Bible Quiz team. Moses Lake was a team that our team would talk about regarding their intimidation techniques for the quizzes. They dressed in button-down white shirts and ties and would stand up together and sit down together at the close of every question. They were a team of two boys who would make our team of 3 girls just laugh. Thom, one of their team members, also loved to challenge as an intimidation technique. We also predicted that he would be a lawyer someday. Sure enough, he now works for the JAG core in the army. Moving to Moses Lake I said to my husband, "I bet Mr. Neuman, the Moses Lake Bible Quiz coach, would be the church delegate who would welcome us as the new pastor to the church." Sure enough it was. We had a great time reminiscing about the days of quizzing we shared together.
Did you or your team win any championships? If so, what and when?
We did not win any championships but did place 3rd at SPU in 1989.
What was your favorite scripture? Why?
I Corinthians 10:13
"No temptation has overtaken you except what is common to mankind. And God is faithful; he will not let you be tempted beyond what you can bear. But when you are tempted, he will also provide a way out so that you can endure it."
I love how it assures us that God will not let us be tempted beyond what we can handle and he will always provide a way to escape. We just have to be looking for it.
How did quizzing affect you as a teen?
As a teen quizzing was great for me. It helped me make friends in the new town we had just moved into. It was a great way for me to get into the word and memorize. My Dad had already had us memorizing Scripture to earn different things such as camp, ear piercings, etc., so this activity really fed into a seed that had already been planted. And I have to say I love a good competition.
What difference has quizzing made in your life to this day?
I believe the difference quizzing has made in my life is to be more biblically literate than I may have ever been without quizzing.
What ministries are you currently doing? How are you presently active in serving the Lord?
At our local church I serve as the financial secretary and am involved in a prayer team for the Pastor Search Committee since we are in the process of looking for a new pastor. At work, I have met with a friend and co-worker for a Bible study about once a week for the last two years.