Dennis Charles
---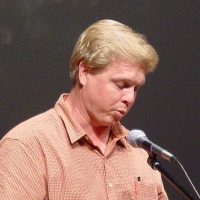 Dennis Charles
Aldersgate Free Methodist Church
Indianapolis, IN
Quizzed 1969, 1973-1974
Inducted 2003
Bio
Notable Results
1974 Wabash conference championship. Nationals were by invitation only; we went to Nationals, but did not place.
2nd place individual scoring in the Wabash Conference
Favorite Scripture
"And we, who with unveiled faces all reflect the Lord's glory, are being transformed into His likeness with ever increasing glory, which comes from the Lord, who is the Spirit." (2 Corinthians 3:18)

Questions & Answers
How did quizzing affect you as a teen?
Quizzing affected my life as a teen by providing me with a tool for discipleship in my life. In school, I was just an average student and never saw myself studying unless I had too. I decided to give Jesus control of my life in high school, and in doing so, desired to find direction through His word. I would read and apply the Word to my life. Soon answering questions became easy. We ended up winning conference finals and that was unthinkable for me. I believe that God was showing me that He could do whatever He wanted with me even though I felt I would not be able to accomplish it. I decided that quizzing was a special ministry and that God could use me in it. I approach quizzing differently than some. The competition to win does not drive me as much as seeing and learning how God chooses to use us through the competition.
What difference has quizzing made in your life to this day?
Quizzing has affected my life today by having my family exposed to the Christian young people involved. My children have been around quizzing all their lives. They have seen all the role models that have gone through quizzing and can see what people can be like with God's help-not the way the world would like for them to believe. National Finals have been on the family schedule for the last 16 years because I want my family exposed to the exceptional type of teen that comes through the program.
How are you serving the Lord?
Quizzing has been and is currently my ministry. In the past, I have served as youth director in my local church.
I am presently serving as the Mid-East Regional Director and a local quiz coach at the Indianapolis (Aldersgate) Church. I have also served as Wabash Conference Director.

(Editorial Note: "I don't know of anyone who has served the quizzing ministry with more of a heart for kids and the Lord's work than Dennis. He has selflessly directed a division at Quiz Finals for many years and always helped us keep the spirit of quizzing what it should be. He has served as conference director and regional director for about 15 years and made significant contributions over those years.")