Gerald Coates
---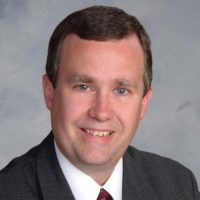 Gerald Coates
Moundford Free Methodist Church
Decatur, IL
Quizzed 1975-1979
Inducted 2003
Bio
Notable Results
1977 - Senior Teen National Champion

1979 - Senior Teen National Champion
Our team received the Best-Balanced Team Award in 1977.

Favorite Scripture
"Forbearing one another, and forgiving one another, if any man have a quarrel against any: even as Christ forgave you, so also do ye." Colossians 3:13 sets the standard for forgiveness.

Questions & Answers
What were the highlights of your quizzing years?
Quizzing in Estes Park, CO in 1975, and winning the National Championship in 1977.
How did quizzing affect you as a teen?
I made lots of friends and implanted the scripture in my mind.
What difference has quizzing made in your life to this day?
I am still recalling scripture by memory that I learned over 20 years ago.
How are you serving the Lord?
I have pastored in the Free Methodist denomination for 16 years, and currently serve as Administrator for Free Methodist Communications.
I have continued to be active in quizzing through coaching and quizmastering.