Jon Bartlett
---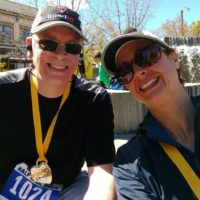 Jon Bartlett
Hershey Evangelical Free Church
Hershey, Pennsylvania
Quizzed 1983-1989
Inducted 2019
Bio
Jon Bartlett is a teacher at Moses Lake Academy in Moses Lake, Washington, where he lives with his wife Anne. He has two sons, Tim and Joe, who attend Seattle Pacific University. Jon and Anne are the West Coast Regional Directors for FMBQ.
Questions & Answers
What were the highlights of your quizzing years?
I can't remember very many specific quizzes. I know that I had good years and bad years, and was on some successful teams, and some that were less so. I can remember my very first practice. I joined quizzing a few weeks late and my first week of study was on Romans chapter 4. I went home and tried to memorize as many verses as I could. I didn't get the whole chapter, but did get around 15 verses. I quoted them to a coach who seemed very happy! I don't think I ever had a year where I learned the whole material, but I was always a "decent chunk" guy. I can also remember a practice during my Acts year where one teammate was trying to remember the name Blastus and couldn't. So two other guys pretended they were blowing something up with dynamite to try and help jog her memory with "blast-us." It didn't work.
Did you or your team win any championships? If so, what and when?
Evangelical Free Church quizzing did not have individual quizzing, so the only chances for winning came as a team. I can remember taking first place several times at the District level (kind of like FM Regionals), but I'm not sure which years. I can't remember the highest one of my own teams placed at the national level. But I do remember a high school team from Hershey that took second place when I was in middle school. It came down to the last question, and one of our quizzers, who did not know the material as well as two or three others on our team, got too excited about being the hero and jumped way too early. So we got second instead of first.
What was your favorite scripture? Why?
I don't know! I can remember lots. How about Acts 4:12-13: "Salvation is found in no one else, for there is no other name under heaven given to mankind by which we must be saved. When they saw the courage of Peter and John and realized that they were unschooled, ordinary men, they were astonished and they took note that these men had been with Jesus."
I like that they were ordinary and obviously had the ability to do what they did because of the Holy Spirit, and that Jesus was getting the credit.
How did quizzing affect you as a teen?
I was hanging around good friends, going on road trips, having fun. Of course I was getting really familiar with big sections of the Bible. But the biggest effects from quizzing are probably in the answer to the next question.
What difference has quizzing made in your life to this day?
Well, I have gone on to be a pastor for most of my career, and now a Bible teacher at a Christian High school. So knowing so much Scripture has been a constant benefit in those areas. Of course, I have continued to get even more familiar with it, in part as I've continued to be involved in quizzing as an adult. But classes in college and Seminary were that much easier whenever Bible knowledge was required. My preaching and teaching have benefited from it. Random circumstances will bring Scriptures to mind a lot more frequently than they would have otherwise. Quizzing was a huge part of pointing me and preparing me for the path I have taken.
What ministries are you currently doing?
My full time job is ministry-oriented. Teaching Bible to middle school and high school students at Moses Lake Christian Academy is a real blessing. But outside of work, my wife and I are both involved in our church. Three friends and myself are the second worship team and get the call whenever the first team can't make it work. I will frequently fill in as the preacher for our Pastor when he will be gone. I get to do that at a handful of other churches in our community as well. I also serve in the Nursery about once a month.