Mark Scandrett
---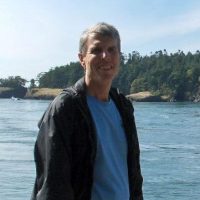 Mark Scandrett
Iowa City Free Methodist Church
Iowa City, IA
Quizzed 1971-1972
Inducted 2007
Bio
Favorite Scripture
"Carry each other's burdens, and in this way you will fulfill the law of Christ." (Galatians 6:2) This verse taught me a lesson that is a big part of my life as pastor - that as a follower of Christ I have a responsibility to help carry the burdens of others as they go through hard times.
I have coached Bible quizzing since 1983 - for two years as a seminarian at Wilmore, KY, and for 22 years here in Alton, IL. More recently, I've turned over head coaching responsibilities to others but have continued to serve as assistant coach and quizmaster at tournaments. In recent years, I've also served as Midwest Region Bible Quiz Director. I've promoted quizzing at Annual Conference, in local churches and at youth camps. As coach, I've committed to memorizing (now re-memorizing) the Scripture with our quizzers, and I've enjoyed participating in QUIC quizzing.
Questions & Answers
What were the highlights of your quizzing years?
My experience was so limited that I didn't have any highlights. Actually, most of my quizzing was in the 1971-72 year, when I was too young to legally quiz. (Back then it was just for high school students.) But they let me quiz in a couple of matches (not tournaments) with other churches, and although I wasn't eligible to quiz in the conference championship, our team won and competed at Finals at IYC that summer. Back then, only conference champions were eligible for Finals. Probably the highlight for me was memorizing the book of Galatians - I felt like I had really accomplished something.
How did quizzing affect you as a teen?
Although I wasn't involved much in quizzing due to the fact that our church only had a quiz team for a short time, I was blessed by the Scripture I learned and by being introduced to the discipline of Scripture memorization. This early exposure to quizzing was a positive experience for me and paved the way for my later involvement as an adult leader.
What difference has quizzing made in your life to this day?
Quizzing has motivated me to memorize over 2/3 of the New Testament. Having the Scripture deeply ingrained in my mind and heart has been a tremendous tool for ministry and has made it much easier for me to know God's will. I have found quizzing to be a great discipleship tool and have used it in the discipleship development of many young people, a good number of whom are now leaders in our congregation. All three of my children have participated in quizzing, and I greatly appreciate the spiritual growth and deepened commitment to Christ that they have experienced through quizzing. I am a natural coach - I love to bring out the best in others! I have received a lot of satisfaction from helping young people do well in quizzing. A highlight for me was coaching my sons Nathan and Matthew when their team won the Alpha-Omega trophy. Even more satisfying is seeing these young people grow in their relationship with Christ. Quizzing has been a great way to use my gift of coaching.
How are you actively serving the Lord?
Senior pastor at Emmanuel FMC in Alton, IL and Mid-West Regional Bible Quiz Director